Decendants of Ramapir
Ramdevji Maharaj had two sons, and a daughter who was born four months after Ramapir took Samadhi. The princess was called Chandrakunvarba and was married to Hapaji, the son of Gogadevji of a small village in Satarva. Ramdevji's elder son, Saadaji who later left Ramdevra established a new village called Saada.
This village is 15 km from Ramdevra and Saadaji's descendants still live in Saada. Ramdevji's younger son was called Devaaji who in turn had two sons Ranoji and Bhanoji. The Samadhi temple of Ramapir is handled by the descendants of Ranoji. Bhanoji's descendants get a portion of the income from the Samadhi temple of Ramapir. The present income from the temple is divided into 750 portions for the descendants of Ranoji and Bhanoji.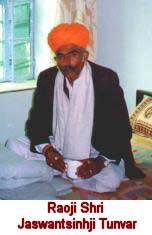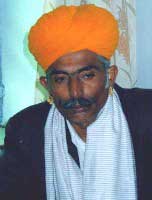 Raoji Shri Jaswantsinhji Tanwar was the sixteenth descendant of Ramdevji who passed away in June 2011, his son Raoji Shri Bhumisinhji Tanwar' (Bhomsinhji) is now the present Gadi-pati.