A large fair is held in Ramdevra attended by lakhs (thousands) of devotees from far and wide. It is held from Bhadon Sudi 2 (Beej) to 11 (Ekadashi) (in the months August to September). Devotees irrespective of caste, creed or religious affiliations, throng to Ramapir's shrine. They pay their homage by singing Bhajans and Kirtans (Devotional songs). Visitors are not allowed to indulge in vices.
Reaching Ramdevra Fair:
To reach Ramdevra travel to either Mumbai or New Delhi and then take an internal flight to Jodhpur in Rajasthan. From Jodhpur you go by rail or road to Pokran in Jaisalmer District. Ramdevra is 12 kilometres from Pokran. Local people still travel on camels, bullock carts or on foot. During the fair, special buses and trains go from as far as Madhya Pradesh, Uttar Pradesh, Gujarat and Maharashtra.
Bus Services: There are daily Buses from Bikaner, Jodhpur, Jaisalmer to Ramdevra (Runicha).
Train Services: Train No. 4059 (Delhi Jaisalmer Express) from Delhi via Gurgaon, Rewari, Alwar, Jaipur, Jodhpur. Its run daily with classes 2AC, 3AC, Sleeper.
Ramdevra in the Eyes of a Tourist:
The centre of attraction is the Samadhi-Mandir, that is, the temple of Ramapir, which includes the samadhis of his parents, that is, King Ajmalji and the Queen Mata Meenaldevi. The other samadhis are of his grandfather Raja Ranjitsinhji and the elder brother Viramdevji and the two sons of Ramdevji. There are also some more Samadhis of very close family relations of Ramdveji. Detailed information can be obtained from either the Poojari of the Temple or the main Gadi-pati. In the Temple everyday the Arti times are 5.00 a.m., 9.00 a.m., 7.00 p.m., and 10.00 p.m. respectively.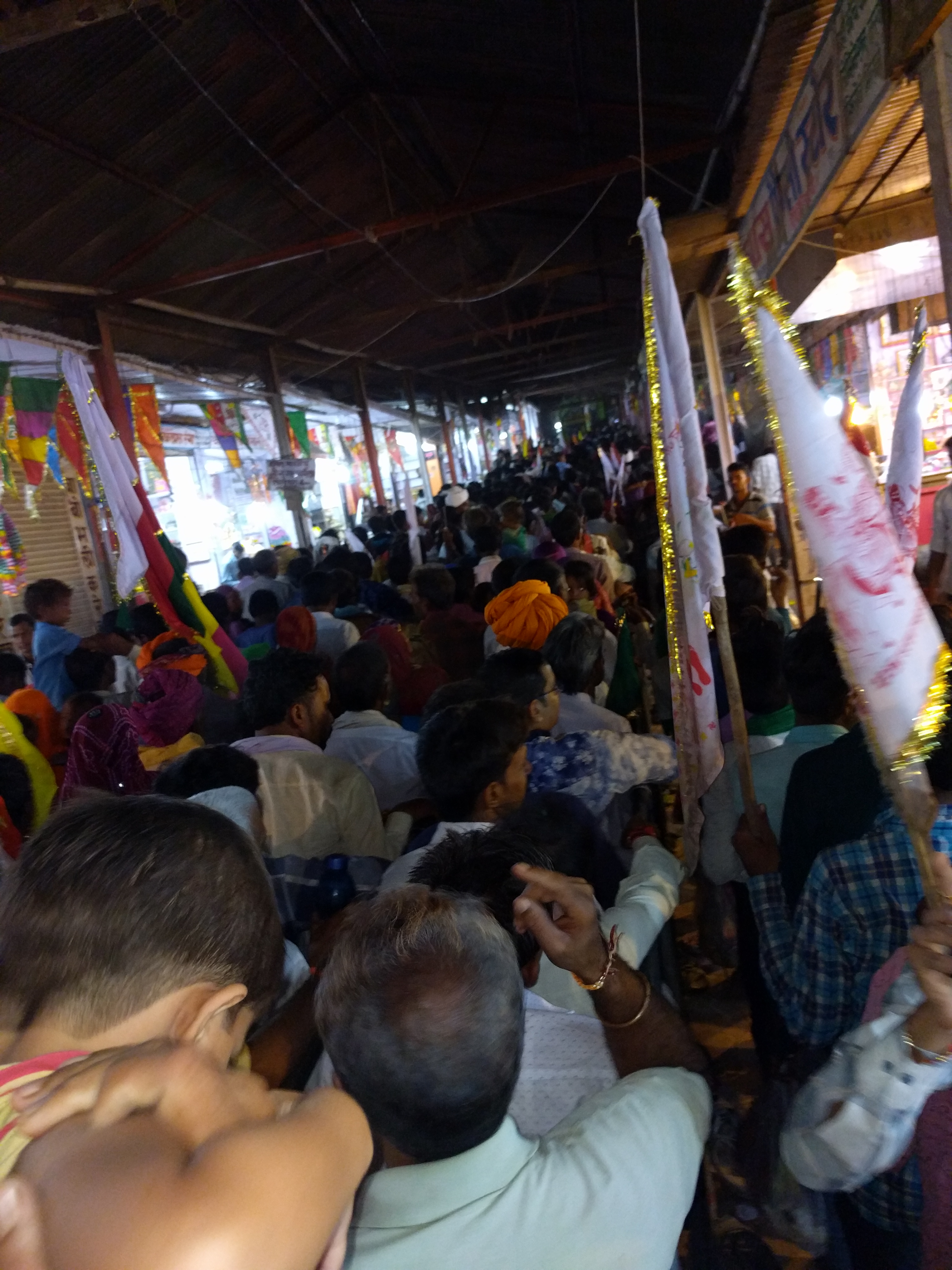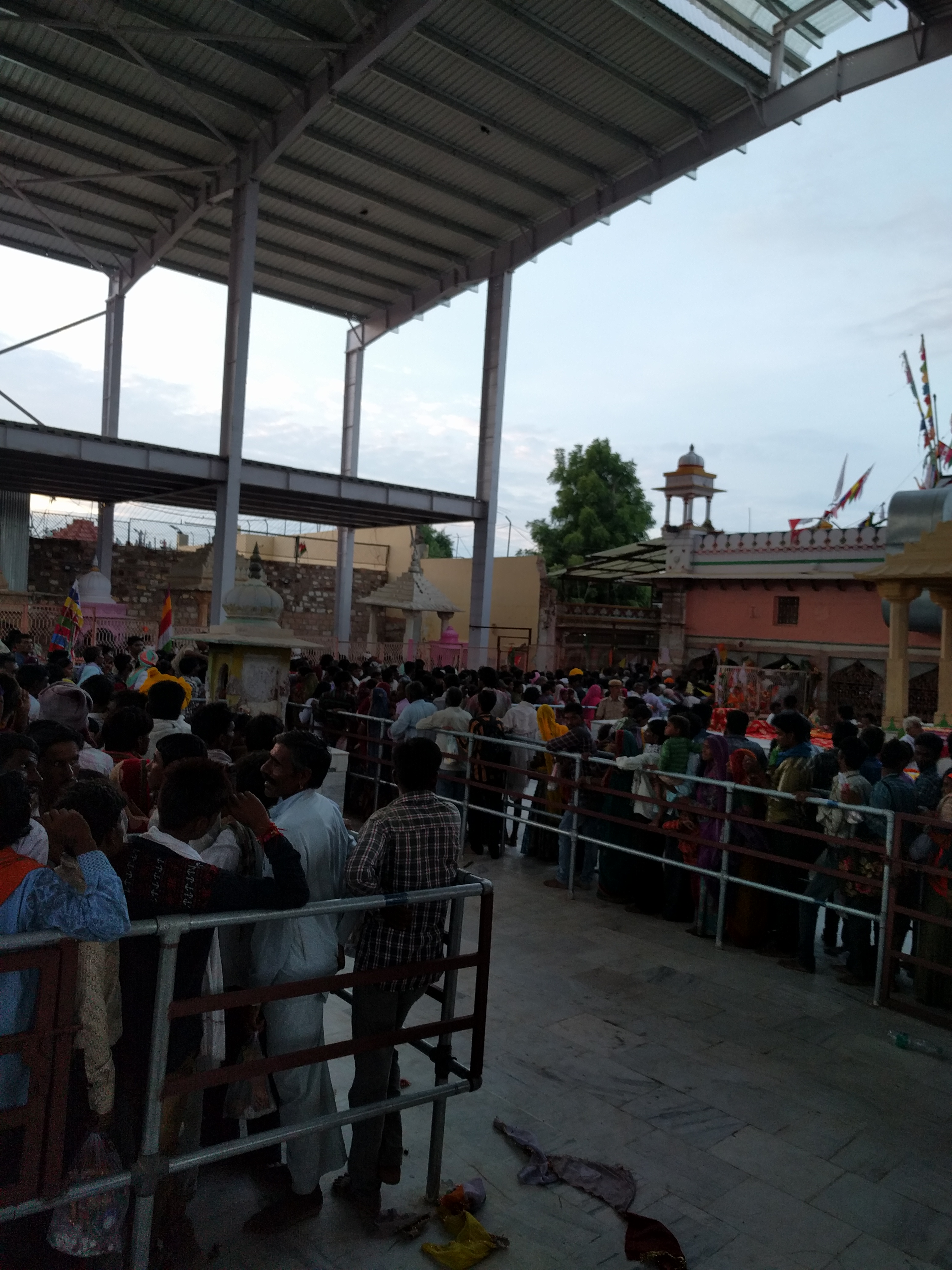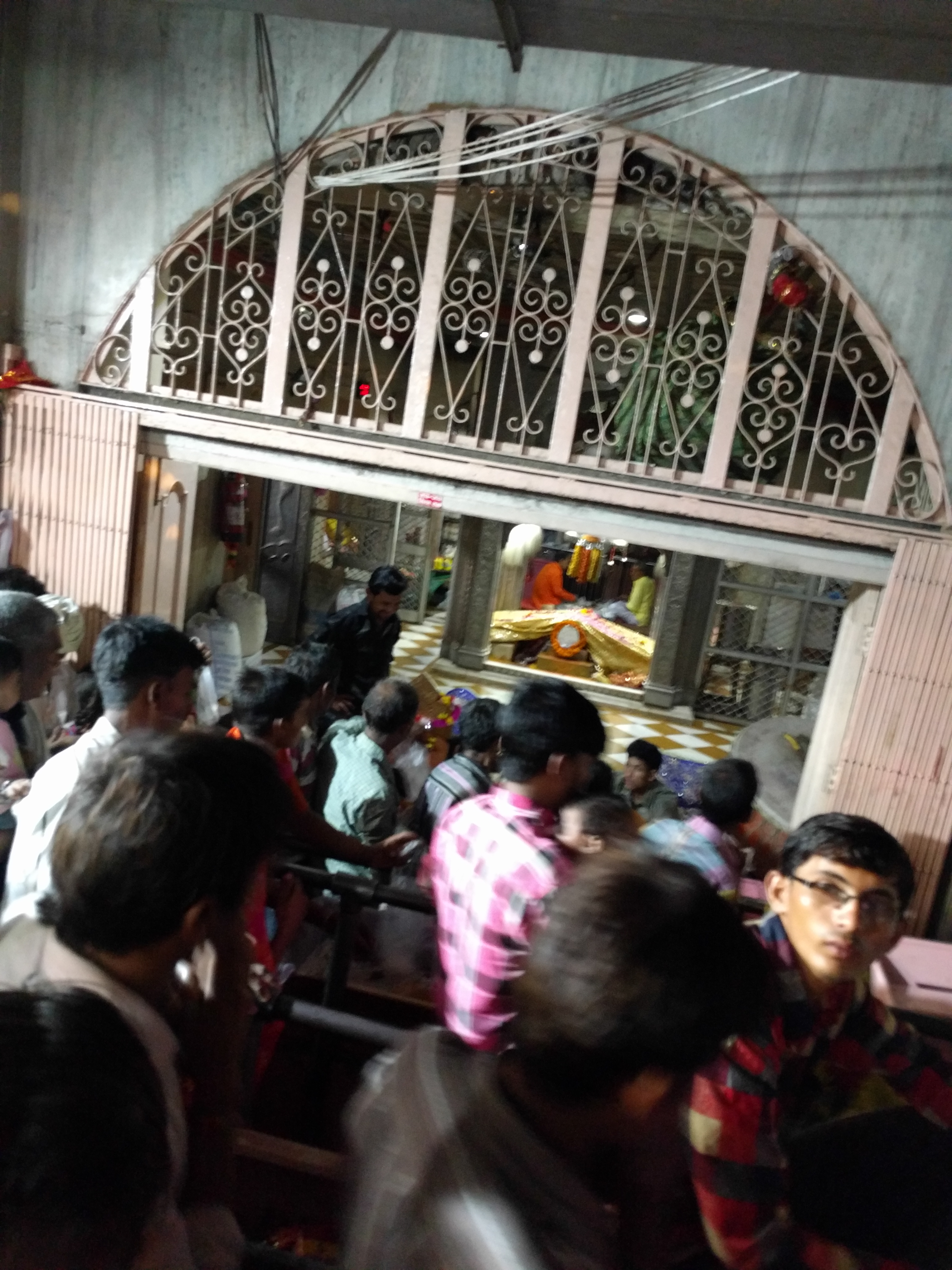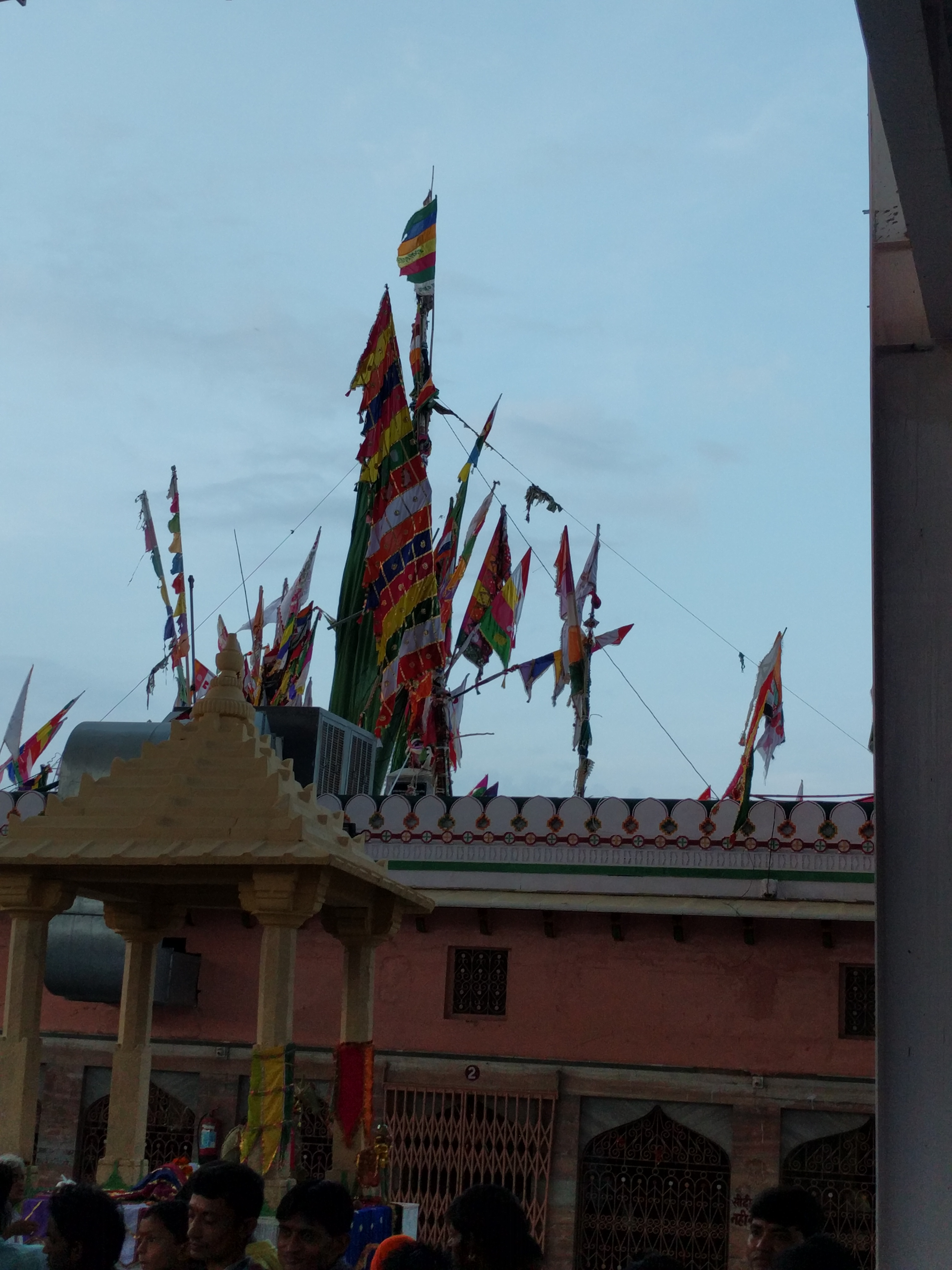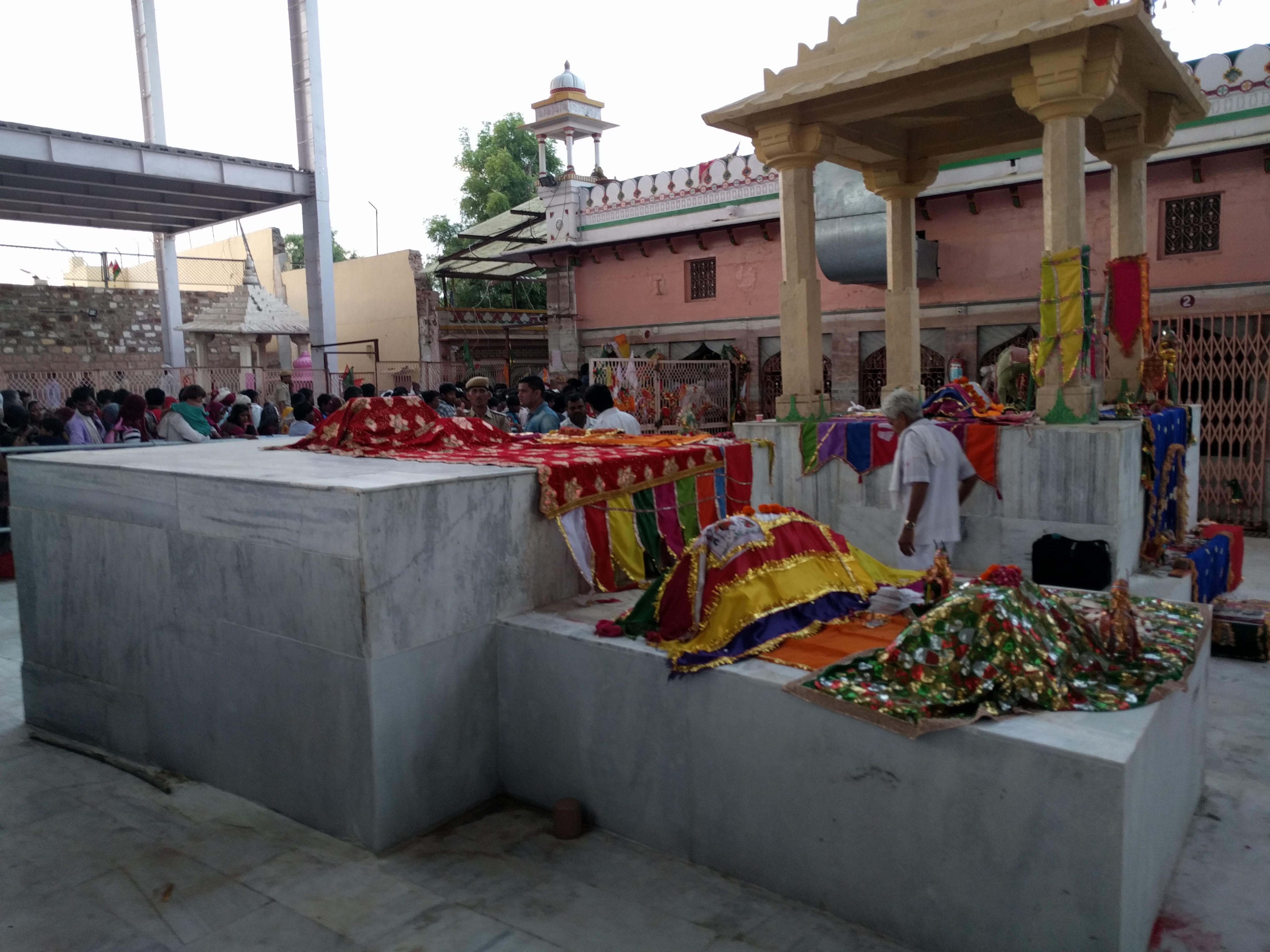 ×
Address: Shree Ramdevji Mandir, AT Post RAMDEVRA - 345023, Dist. Jaisalmer, Rajasthan, India.
Whatever time of the year you arrive in Ramdevra, whether by day or night, there are places to stay, out of which the two, Hotel Poonam and Sardarsar Ashram, have reasonable facilities. To eat out you can get both Rajasthani and Gujarati food.
The other places of interest are:
(1) Parcha -vav
(2) Panch-Peepli
(3) Palace of Ajmalji in Pokran
(4) Dhuni of Baba Balnath, Guru of Baba Ramdevji
(5) Cave of Bhairavsinh Bhairav Rakshas (demon)